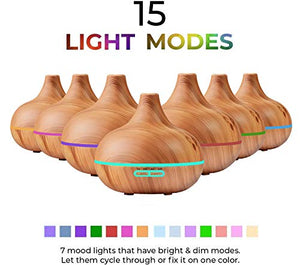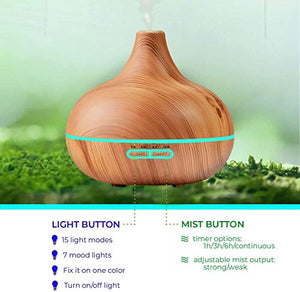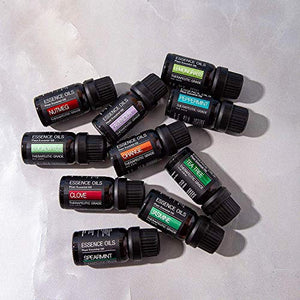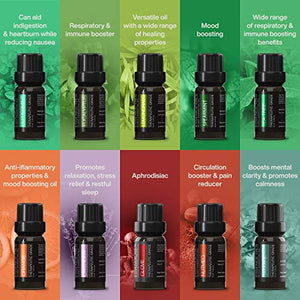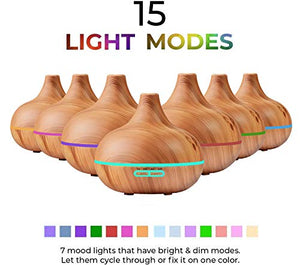 Ultimate Aromatherapy Diffuser & Essential Oil Set
The Complete Bundle - Our Essence Diffuser has a 400 ml capacity and uses state of the art wave diffusion technology to atomize essential oils for ultimate wellness. The Essence diffuser includes 7 ambient light modes with two intensity settings for 14 different light combinations. It also includes 4 timer settings and a convenient auto shutoff feature for low water levels. Essence is made of BPA free plastic with a beautiful printed wood grain design.
Ancient Therapies Delivered As Intended By Nature - Our essential oils are formulated using high quality plants sourced from various regions of the world, such as lavender from France and Tea Tree from Australia. Our modern heat-less diffuser delivers the therapeutic properties of these plant oils as nature intended by using modern ultrasonic waves to atomize the oils instead of burning them with heat.
10 Essential Plant Oils - Our Top 10 essential oils include lavender, eucalyptus, tea tree, orange, peppermint, lemongrass, jasmine, nutmeg, clove, and spearmint oils. All oils are therapeutic grade come in amber 10ml jars to protect from sun degradation
No Additives or Fillers - Absolutely zero cheap additives or fillers are used in creating our oils. We use local harvest (when possible).It takes longer but is better for the environment and creates a better essential oil. We employ a variety of extraction processes such as steam distillation and cold press depending on plant harvested.
What's Included – 1 400ml ultrasonic essence diffuser, 10ml lavender essential oil, 10ml eucalyptus essential oil, 10ml tea tree essential oil, 10ml orange essential oil, 10ml peppermint essential oil, 10ml lemongrass essential oil, 10ml jasmine essential oil, 10ml nutmeg essential oil, 10ml clove essential oil, 10ml spearmint essential oil, power cable, and manual.
The Ultimate Aromatherapy Gift Set Includes:
300ml Premium wood grain Diffuser
120ml capacity tank
7 ambient colors with 2 intensity settings
4 timer settings
Auto Shut-Off feature when water level is low
Top 10 Single Notes:
10ml Therapeutic Grade Eucalyptus Oil
10ml Therapeutic Grade Lavender Oil
10ml Therapeutic Grade Lemongrass Oil
10ml Therapeutic Grade Tea Tree Oil
10ml Therapeutic Grade Orange Oil
10ml Therapeutic Grade Peppermint Oil
10ml Therapeutic Grade Nutmeg Oil
10ml Therapeutic Grade Spearmint Oil
10ml Therapeutic Grade Clove Oil
10ml Therapeutic Grade Jasmine Oil
All of essential our oils are 100% pure therapeutic grade plant oils made from full leaf and root using state of the art extraction methods and bottled in our signature amber bottles to preserve integrity.